Testimonials
What our customers say about our cat feeding and cat sitter services

This was my first time using a cat sitting service and was extremely pleased with the service I received. Everything was very professional and my kitties were very well looked after. Will definitely use again and would recommend to anyone anxious about leaving their fur babies.
Sharon Trigg (Jess and Alan)
---

We have known Chrissy (the owner) for about 7 years when we asked her to look after our much loved cat Mr Ted when we went on holiday. She provides a professional and reliable service, and comes twice a day to feed and give Ted a little TLC. Chrissy also gets the post in and keeps an eye on our property. She also sends regular texts to us with updates on Ted. When we return we have a report sheet with comments on his eating, any medication given and his general health.
We would not hesitate to recommend Chrissy if you want your cat looked after in their own home and not in a cattery which ours hated, and she has become a friend.
Carol and David
---

Chrissy has been visiting Poppy each time we're away for two years now. She is fantastic. We know that our Poppy will be well looked after and I can honestly say that we would not go away unless Chrissy was available. She is reliable and kind from the first visit Poppy, who is a nervous rescue cat, came straight up to Chrissy. That to me speaks volumes. Thank you for looking after Popply so well.
Ruth
---

I have used Chrissy and Spoilt Rotten Kitties to look after my golden oldie rescue girls since 2014. Chrissy now looks after my lovely Hattie and I would never trust anyone else.
I felt reassured from the moment I met her. Chrissy has a special affinity with cats and as soon as she speaks to them, they settle and have always formed a special bond. Hattie is on medication, a daily tablet, and I know she will be well looked after and a great fuss made of her. I can go away with complete confidence that Hattie is happy, the house security checked, post picked up, bins put out and even the plant pots by the door are watered in hot weather.
Chrissy is reliable and efficient and has stepped in at short notice. I feel that Hattie and I have found a rather wonderful friend. Nothing is too much trouble. I receive texts whilst away, and have a diarised information sheet when I return too plus Hattie is happy and more than content in her own home.
In other words, what a brilliant service. I highly recommend Chrissy and Spoilt Rotten Kitties. Thank you.
Val
---

Highly recommend Chrissy and Spoilt Rotten Kitties. Nicola has been feeding our 3 rescue cats (Reggie, Chewy and Munch) for the last few years and we never have any worries about leaving them for a few days. We know the level of care and professionalism is second to none. Nicola also goes the extra mile by picking up post, security checking the house and bringing our dustbins in/out. Brilliant for us to have peace of mind when we are away. Always enjoy reading the notes when we come back – wouldn't trust or use anyone else. Thank you Chrissy – brilliant service.
Tina
---

Delighted with the care Chrissy gives our Bengal cat, 'What-a-Lot' who came to us as a thin and needy orphan. Chrissy does much more than just feed and water her, she gives loving care and attention and alerts me at once if she has any concerns.
It is such a relief that I can now take trips away in the knowledge that our sweet 'What-a-Lot' is happy and safe. I can not recommend Spoilt Rotten Kitties highly enough.
Caroline
---

Spoilt Rotten Kitties is a great service. I can always rely on Chrissy to come and look after Skye. Skye and Chrissy have a lovely bond and I can go away with the confidence that she'll be well looked after. Chrissy even sends me little photos of my Skye to give me peace of mind!
A very trusted and professional service, Chrissy has a great love of cats and puts her heart and soul into the business.
Michele Gocher
---

My cats mean the world to me and I hate to leave them when I go away.
With Spoilt Rotten Kitties however, I know that they are safe and well-cared for in the home environment they know.
I wouldn't trust them to anyone else.
---

Nicola took care of our two precious cats, Isla and Indigo, for three weeks over Christmas and New Year and it's true to say that we could not have been more delighted with the service provided. It was clear on our return that the girls had been very well looked after, they were completely relaxed and happy and had really taken to Nicola. On top of all this we received regular emails of the girls' progress, which we found very reassuring. Overall we had a very professional experience working with Spoilt Rotten Kitties and would thoroughly recommend them.
Belinda and Peter Trigg
---

Chrissy and Nicola have been marvellous Carers for our gorgeous girl Lucy. They are efficient, reliable, keep in touch as much as they can and write us interesting reports on their visits when caring for Lucy!! Above all they have been very caring and kind to our old girl Lucy, who was not always in the best of moods!!
Thank you Chrissy and Nicola for all your help and kindness. We highly recommend Spoilt Rotten Kitties.
Lindsay
---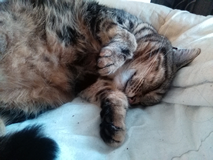 We can highly recommend this service! The person who was supposed to look after our cat during our holiday cancelled last minute. Luckily enough, we found Chrissy. We were a little nervous about leaving our cat behind like that but Chrissy came in to meet her and Oidiepoes felt comfortable around Chrissy straight away. When we were gone Chrissie kept a diary so we knew exactly what happened every day and when we returned Oidiepoes was just as happy and healthy as before we left! Thank you Chrissy!
M
---

Chrissy looked after my babies Max and Ash while my hubby and I took a short break to Germany and WOW when we got home our cats were happy, everything was journaled for us and I am absolutely thrilled with the service. Chrissy brought our mail in and fed the fish too. I can't recommend Spoilt Rotten Kitties enough, they are simply amazing!!
Wendy, Ash and Max
---

Our girl Bella is a rescue cat and very shy around strangers however from the first moment she met Chrissy, she knew that she could trust her and is always looked after so well by her when we are away. It's great that we can leave her at home, rather than a cattery, and know that Chrissy will be in to see her and spend time with her to give her the attention she needs in our absence. We started off with short breaks and we are just back from our longest yet – 6 nights. Bella was not concerned at all as she was looked after so well when we were away. We have had other cat sitters before and they have been very unreliable but Chrissy is so dependable, really loves animals and our girl is just so comfortable with her. I'm quite overprotective and Chrissy always texts to let us know how Bella is getting on to put my mind at ease – we're very pleased to have found her.
Narelle
---

Chrissie has always looked after our cats when we are away and she makes sure to sit with them for a while so they have some company as well as making sure their basic needs are met.
Chrissy is reliable and trustworthy and we would highly recommend her.
Aimee Sharp
---

Our two very nervous cats Poppy and Sweet Pea have a traumatic past and become very unsettled by the restrictions of being placed in a cattery. Spoilt Rotten Kitties provides the perfect solution as Chrissy arrives every day to feed and check on them and they remain happy as they are able to stay in their own home and garden. Chrissy has also gone beyond the call of duty by also looking after our chickens. Spoilt Rotten Kitties offer a brilliant service and I wouldn't hesitate in recommending them.
Thanks Chrissy and Hazel.
Corrina
---

In the past we've had unfortunate experiences leaving our cats in catteries when we went away so we've been reluctant to go for the past 4 and a half years since we have had our present cats. We don't have anyone nearby we could ask to look after them so looked on the internet for local cat sitters. I liked Spoilt Rotten Kitties best. It was interesting and informative with rave reviews. I phoned Chrissy and immediately felt reassured that she would care for our cats as we would wish. At short notice Chrissy and Hazel came to visit us, meet the cats and find out their likes and dislikes.
Chrissy was calm, but business like and very organised. She's just as good at the paperwork as she is at the practical side of looking after the cats. We came home to find 2 happy cats. In fact I'm not even sure they missed us! We will certainly use Chrissy and Spoilt Rotten Kitties again – maybe we won't leave it so long now.
Thanks again.
Debbie and Martin, Worthing
---

From the moment you meet Chrissy and Hazel you'll feel assured that your pets will be in very good hands. They are gentle and kind – taking the time to talk about your cat's likes and dislikes, habits and most importantly, their general health.
We contacted Chrissy with very little notice but she was more than accommodating. Only away for a few days, but we were reassured by texts letting us know how Diddy was doing – which was to report she was just fine and (probably) not missing us at all, loving the attention she was getting!!
Highly recommend SRK and now feel confident to book a longer break – happy that Diddy will be safely looked after – and our home also – thanks a million!!
Sharon and Geoff
---

Poppy is a very loving and sensitive cat, after putting her into the cattery on several occasions whilst my husband and I went away on holiday she always came home very quite and sad. She had always lost weight and did not look very good.
I felt that I would have to come up with another idea and after doing some research on the internet I found Chrissy at spoilt kitties. She is very professional and looking after your pet is her first priority. Now I can call Chrissy at short notice and she has never let me down.
Poppy is now very happy when I come home after the loving care and attention she gets from chrissy. A big thank you to Chrissy.
Carol and Chris
---

I can go away confident in the knowledge that Maisie will be well looked after by Chrissy and I will return to a relaxed and happy cat.
Wouldn't hesitate to recommend Spoilt Rotten Kitties.
Jan
---

We have been using Spoilt Rotten Kitties for 4 years now and highly recommend them. Chrissy is very efficient, affordable and loving towards our two cats. When we get home, our cats are happy and well fed. And it's also great knowing someone trustworthy is coming to the house each day. We like reading the reports, to see what the cats have been up to – my daughter especially likes this part. I have never had any complaints – just great service time after time. Chrissy even puts out our bins on bin day and stacks our post neatly on the table! Thank you Chrissy.
M Fenn, Worthing
---

After being let down in the past by cat sitters, I was relieved to find Chrissy. Not only has she been readily accepted by our difficult to please cats, but she is reliable, trustworthy and completely dedicated to the cats (rabbits, fish etc.) she looks after.
You can go away secure in the knowledge that your pets will be loved and cared for. She even sent us a text with a progress report. We will definitely be using Spoilt Rotten Kitties again and would highly recommend them.
Dee
---

Chrissy has looked after my two cats on two occasions now and I cannot fault her professionalism and genuine care for my cats. My cats are very nervous with strangers but Chrissy has a real knack with cats that on their first meeting, they were relaxed with her.
Bill has been very unwell recently and Chrissy was brilliant with him knowing exactly what to look for in his manner and texted me continuously to keep my mind at rest. As well as the cat care and attention, Chrissy keeps an eye on my home and it is always tidy on my return.
My cats are always relaxed and happy when I come home, if a little disappointed that it isn't Chrissy who has walked through the door! If you are looking for someone to love and care for your cat as much as you do, then Spoilt Rotten Kitties are the people for you. I highly recommend them and would not now entrust their care to anyone else.
J
---

Our 7 year old Russian Blue cats, brother & sister, Dylon & Ellie have been very well looked after by Chrissy & Hazel when we have been away.
They also look after our African Grey parrot called Winkle who loves company, a chat and some nuts.
We would recommend Spoilt Rotten Kitties to all out cat loving friends.
Pamela & David Featherstone
---

We were very worried about leaving our 15 year old cat Pebbles. We had visited Kennels and found them pretty cold and not what we wanted for her.
We chose to go with Chrissy after finding her website and it turned out to be a godsend. She obviously loves cats and her job, and we will certainly use her again. Pebbles was a very happy and contented cat when we arrived home… she had been spoilt rotten.
Breda & Mark
---

We moved into our new home just 10 days before Christmas so I was a bit concerned at leaving our 4 cats. We had never left them at a cattery and they'd always been fed by a neighbour if we went away. I need not have worried – when I met Chrissie and Hazel instinct told me that all would be well. I was so right! Upon our return we found 4 very content cats, a diarised record of their daily care and the kitchen clean and tidy. What a find.
When Chrissie visited a couple of days later the cats greeted her as an old friend and couldn't wait to climb onto her knee – proof positive of the loving care they had received.
Daisy, Taz, Muffin & Jinxie will always be entrusted to these lovely ladies. I wouldn't hesitate to recommend them and their service – I now have some very jealous family and friends who wish Spoilt Rotten Kitties covered their homes too. Thanks ladies – you helped us to enjoy a very happy Christmas break.
Sue & Geoff Pearson
---

We are very grateful to Chrissie and Hazel of Spoilt Rotten Kitties. We often are away for short or long periods of time and cannot take our cat, Snowflake, with us. However, Snowflake is happy just the same, because during these times, Chrissie and Hazel come twice a day! They give him his medicine and food and change his water and litter, and, very importantly, give him loads of attention and cuddles which he appreciates greatly! Meanwhile, we can stay away with peace of mind, knowing that Chrissie and Hazel are caring for him so attentively and responsibly. Snowflake is an old cat (15 years) with health issues which often develop into acute problems, but Hazel and Chrissie monitor him closely and immediately let us know, if they think a trip to the vets' is called for. We know that if we are not contactable, they will make sensible decisions to ensure he gets treatment.
Snowflake's older 'brother' Aqua sadly died this summer but Aqua too loved Chrissie and Hazel and it made him very happy when they came to look after him while we were away. Aqua had serious health problems but as with Snowflake, we knew that Hazel and Chrissie would be looking after him very, very well indeed.
We are very happy that we discovered Chrissie and Hazel about 2 years ago. We will continue to go away for business and pleasure and be confident that our precious Snowflake is safe with Hazel and Chrissie. We recommend Spoilt Rotten Kitties very highly indeed.
Karen
---

My name is Ms Lewis, I am so pleased I found SPOILT ROTTEN KITTIES. Nala is a timid, long hair indoor cat. Chrissy and Hazel came in twice a day to feed, water groom and clean her dirt box when needed. She had her own personal care plan and I could see after only the first day of me being away, she had settled down. I would recommend Chrissy and Hazel's services to anyone.
G Lewis
---

Chrissy and Hazel have been looking after Shula for me on a fairly regular basis for almost two years now. Shula is always extremely well cared for in her own home without the stress of going into a cattery (for either of us!).
As well as looking after Shula, I can go away with the peace of mind that Chrissy and Hazel are looking after my house also, so I can fully relax while I am away.
I have always found Chrissy and Hazel friendly, completely professional and I would not hesitate in recommending their cat sitter service to anyone.
Chris
---

Chrissy and Hazel give us a lot of help and peace of mind while we are away. On top of looking after our cat, Guinness, very well, they also collect our post, do security checks around the house and feed our fish. We also get full reports on Guin's activities when we get back. On top of this, we know that Guin stays at home safe in familiar surroundings while we are away, and does not have to endure the stress of being taken to and from a cattery.
We would not hesitate to recommend Chrissy and Hazel's services to other cat owners. Thank you both very much! :o)
Renee
---

Bobbi is still being really good – I'll have to go away more often and feel now that I can without worrying about her. You and Hazel offer an excellent service and I'll not hesitate to call you again plus I'll tell all my friends how lovely you both are.
I think Bobbi is missing you both this week too.
Beverley x
---

Just to say a big thank you for all of your help, looking after the 2 cats and our plants.
We did think about them whilst we were away and when we returned they looked so content (and Lily has since had to go on a bit of a diet!!)
Jane
---

Chrissy & Hazel do a wonderful job looking after us while the rest of the family swan off on holiday. They can take it easy and relax as they do not have to worry about us or the house.
We much prefer to stay at home where Chrissy & Hazel, who know all our little habits, come and feed us, play with us, twice a day, and spoil us in the way we are accustomed.
Carole Ryan
---

I was initially surprised that there was such a service out there for looking after people's pets after having relied on friends and family for years.
After having used this friendly, caring person who not only cares for your pets but plays with, tends to their individual needs and also waters your plants, I certainly will use Chrissy again. My Cat Frankie and kitten Gerry were well cared for during my absence. Especially at a time when they were just getting used to each other.
Louise
---

Spoiltrottenkitties is a fabulous service. Our cats are content, happy and literally 'spoilt rotten'. Chrissy is utterly reliable; arrives on time; looks after post and plants too and is much loved by our two cats. We come home from our holiday and have two cats blinking at us in surprise that it's not Chrissy! Previously, the trauma of taking and collecting cats from the cattery meant that we lost the cats for two or three days after a holiday while they recovered from the shock of being there – this no longer happens. The other bonus is, of course, that Spoiltrottenkitties is a lot cheaper than the cattery but much healthier for your cats and your piece of mind. You have a cat sitter and house checker rolled into one with Chrissy looking after your pets.
Spoiltrottenkiities will look after our cats for as long as we have them.
Paula
---

We have never left Bobby with anyone before. On first meeting with Chrissy she left us feeling totally resussured and it was obvoius that she totallly adores cats. We were able to go on holiday knowing that she would make a fuss of Bobby.
We would not hesitate to use Chrisy again.
C Bennett
---

My 14 year old cat Lucky was never happy when left at a nearby cattery so I was very pleased to find Chrissy's cat feeding services on her website. On a recent holiday Chrissy came twice a day to feed and check on Lucky and I was so relieved to return to find a stress free cat. Certainly Lucky was a lot happier to remain in his own surroundings.
Thank you Chrissy for a reliable service. See you again soon.
Judith
---

Chrissy is obviously an animal lover and I know that I can go away with peace of mind Knowing that not only will my animals be well fed, but will also receive lots of love and affection while I'm away!
R White,
owner of 2 cats and two rabbits
---

I have been using the services of Spoilt Rotten Kitties for six years now and have been very happy with them. I had two Siamese brothers and now that Mojo, sadly, is on his own they always give him special attention which I am most grateful for. I can text for updates on how he's doing and get an immediate response which is very reassuring. This is a responsible, caring company which I thoroughly recommend.
J D-Powell, Steyning, West Sussex
---

We first used Spoilt Rotten Kitties over 5 years ago when we had an elderly cat and a new cat that we didn't want to send to the cattery, as we normally would. We were so pleased with the service that we never think of asking anyone else to look after the cats when we go away. Our cats, Archie and Millie, clearly love Chrissy and Nicola, as they always come to make a fuss of them when they collect or drop off the key, so we know that they are happy to be looked after by them. The cats are well looked after when we are away, with detailed notes left for each day's visit, and whoever is visiting always makes sure they have seen the cats and makes a fuss of them. We like the fact that Archie and Millie can stay at home safely and be looked after. Chrissy and her team are reliable and we would have no hesitation in recommending them to other cat owners.
Sue
---

We have used Chrissy/Spoilt Rotten Kitties, twice a year for the last 3 years. We now have a 14 year old indoor rescue cat called Tabitha who is very fussy and we are delighted with their service. They are obviously cat lovers and we have found them to be honest, reliable and caring who not only feed her and clean out the litter but play with her and groom her daily (she likes her routine). I would highly recommend and trust them, after all, they have a key to our private "castle". They complete a detailed daily log for our return and we email regularly to ensure all is ok.
Geoff & Monica
---

Chrissy has a natural gift with cats. Spider warmed to her from the moment she met her. Spider is an elderly cat and affectionate cat, requiring daily medication. Chrissy is fantastic with her, not only feeding her, pandering to her ways and giving her the medication, but spends time making a fuss of her and grooming her. Spoilt Rotten Kitties give us all the assurance we need that Spider will be looked after and loved when we are away. I would highly recommend them to anyone.
Denise
---

It is a wonderful service you provide giving me piece of mind while away from home, with a daily report sheet done assuring me that everything was ok. Ruby obviously enjoyed being looked after by Nicola as I came home to a happy cat who acted like I`d just been out for a few hours. Chrissy and her team are very professional and caring and who I would highly recommend. Thank-you for taking such good care of Ruby.
Sue